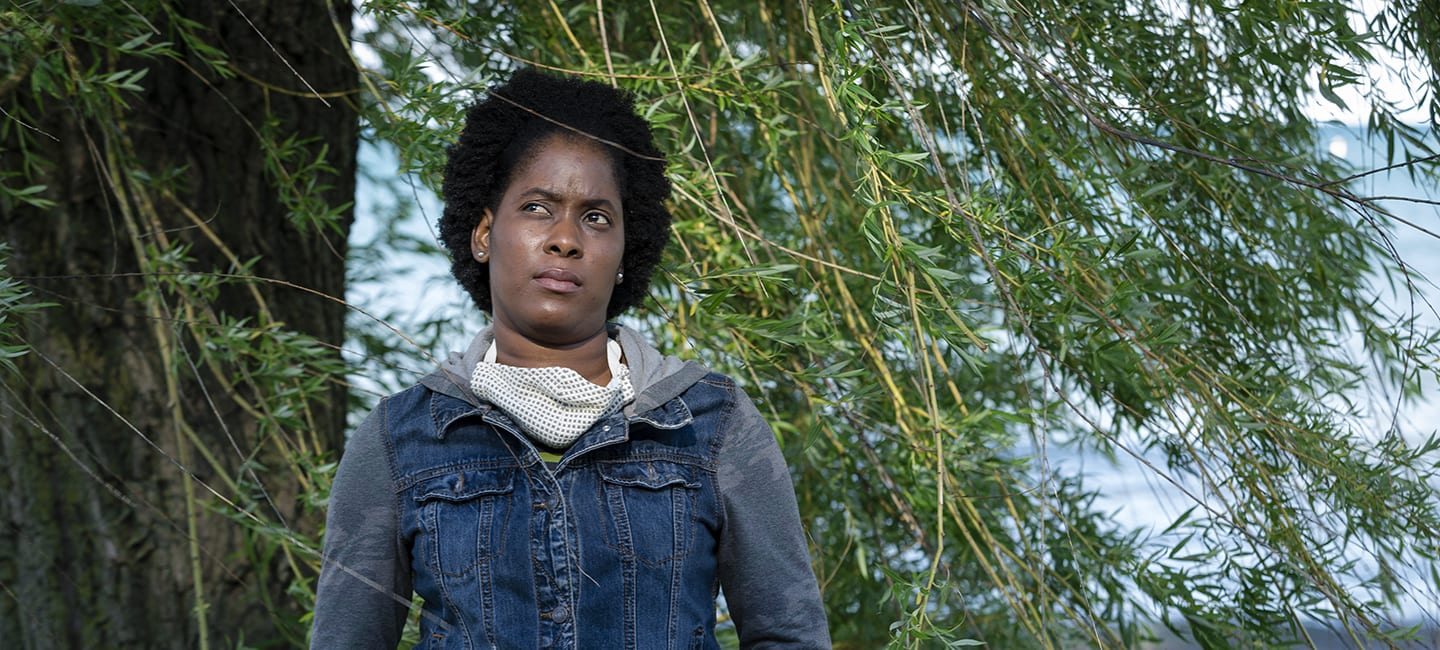 Michelle Kanaar/Borderless Magazine
Mmapula Miller lost her restaurant job due to the pandemic but is now using her time to help other African immigrants in Chicago.
Above: Mmapula Miller June 12, 2020 in the Rogers Park neighborhood of Chicago, Ill. Michelle Kanaar/Borderless Magazine
Most people believe things have been easy for me. They do not know what I went through to be where I am today.
My childhood was not a good one. I grew up in foster care after my mother left me in a trash bag hanging on a tree when I was a baby. An elderly lady passing by heard me crying and took me to the police station. I am named after that elderly lady and my last name was given to me by my kindergarten teacher who adored me.
My freedom came when I turned eighteen. I had been working secretly and saved up enough money to pay for a flight to Europe. I enrolled in college in Munich, Germany to study journalism but had to drop out when my teacher abused me. I eventually made it to the United States by getting an internship at Walt Disney World and then at Marriott Hotels. 
I came to America to better myself and earn a living out of my hard work. Before the COVID-19 pandemic I worked babysitting jobs, took Spanish classes at Truman College and certified nursing assistant classes at the Chinese Mutual Aid Association during the day. At night I worked as a line cook at an Ethiopian Restaurant in Rogers Park called Safari Lounge.
When the governor announced the stay-at-home order in March Safari Lounge laid me and everyone else off. It's never easy to get over the feeling of being laid off from a job you love. I don't know if I am still going to be working there when they fully open and it worries me a lot. I have been relying on nonprofit organizations and churches for food. I just got a part-time job as a cashier and line cook, so I am just getting the hang of that.
I have learned to not depend on my job and to find ways to not be stagnant. I'm learning how to do my hair, trying new recipes and how to speak Spanish and American Sign Language using YouTube. I've also been taking online classes through the Khan Academy to keep educating myself. My mornings are stressful since I have classes on Zoom and meetings back to back.
After I'm done with my morning classes I love to take walks around the park to  get out of the house. I'll read a book and enjoy the fresh air. At night I watch videos and then call my friends back home in Botswana.
I'm in a WhatsApp group with other Africans in Chicago and I've been hearing about people passing away there. It's hard. 
I also volunteer with the United African Organization and have been helping call other African immigrants to see how they're doing during the pandemic and reminding them to fill in the census. Botswana was a British colony and so we have a British accent. So when I call, most people don't think I'm from Africa. They think I'm African American.
I just wish people wouldn't mistake where I'm from. It erases my experience growing up in Africa and all of the hard work I have done to get where I am today. But just the same, I try to help people and stay involved in my African community here.
I am hopeful for a brighter future. But at the same time I am sad people are dying and we can't help them. I am trying to do my best to stay safe in all this chaos. I pray we come together and try to fight a good fight.
Our work is made possible thanks to donations from people like you. Support high-quality reporting by making a tax-deductible donation today.                                                                                                                       
Donate