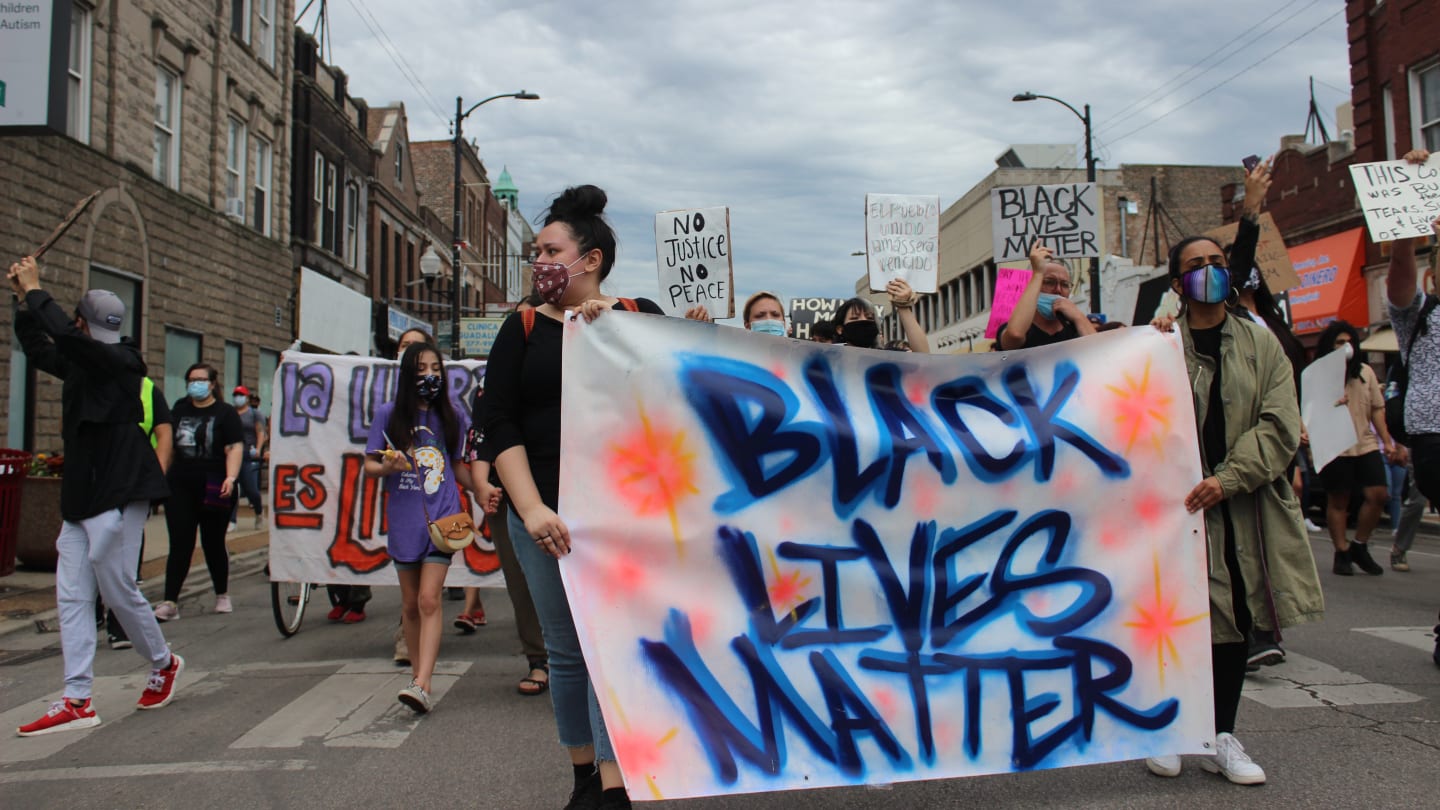 MAURICIO PEÑA/ BLOCK CLUB CHICAGO
It's time for Chicago's Black and Latino communities to organize together, Southwest Side activists say. "We face the same struggles …with unemployment, affordable housing, incarceration."
More than a hundred people marched on 26th Street to against police brutality of Black lives. MAURICIO PEÑA/ BLOCK CLUB CHICAGO
This story was produced by Block Club Chicago, a nonprofit newsroom focused on Chicago's neighborhoods. Read more of Block Club's Pilsen and Little Village coverage here. 
Under the Little Village arch in Chicago Wednesday, more than a hundred non-Black Latinos and Black demonstrators raised their fists to the sky, kneeling in silence for nine minutes in memory of George Floyd.
For organizers, the rally and march down the 26th Street business corridor in the predominately Mexican neighborhood aimed to send a clear message — we are in this together.
Laura Ramirez, an organizer with El Foro Del Pueblo, said it was time for Black and Latino leaders to unite and push back against the divisions created by systemic oppressions that have long impacted both Black and Brown communities.
"We will not allow them to divide us," Ramirez said. "Enough is enough." 
The Little Village march and back-to-back demonstrations in neighboring Pilsen were the latest display of unity with Black Lives Matter protests.  A coalition of Latino organizers also formed the Brown Squad For Black Lives, and a Black and Brown Unity pop up food pantry.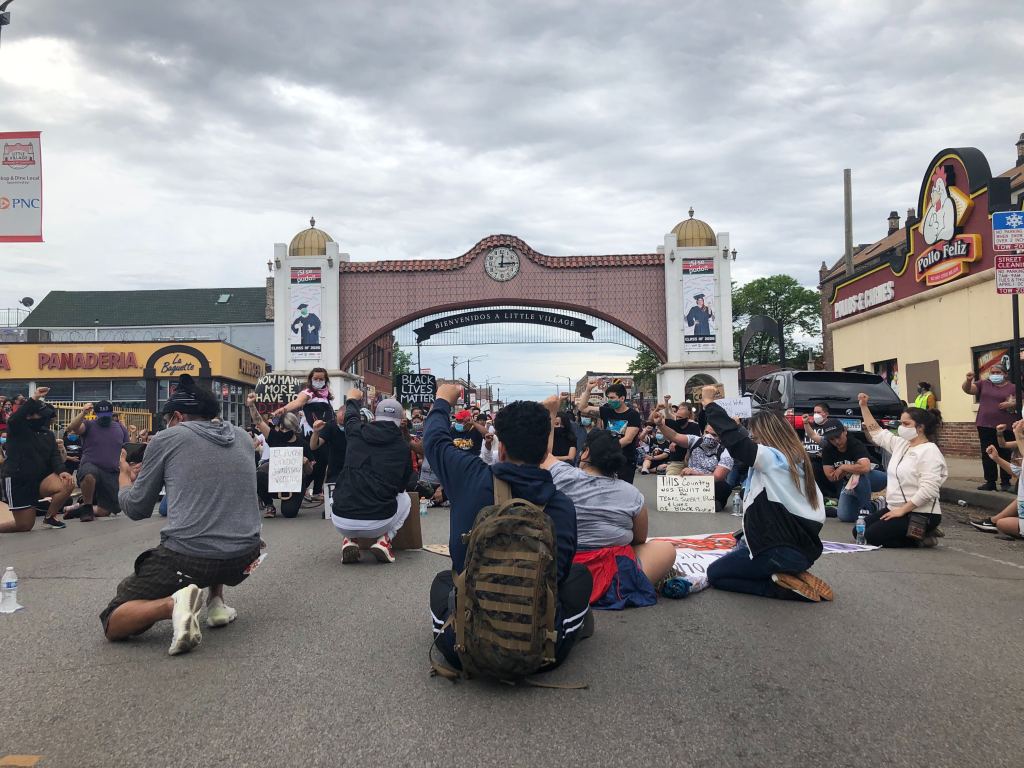 The peaceful rally in Little Village came a day after leaders and organizers condemned isolated incidents of violence between Black and Brown communities, and called on partnerships to bridge the hurt being seen in neighborhoods on the Southwest Side.
On Sunday, Little Village neighbors organized to protect businesses from looters. Some of the men who guarded businesses were members of the Latin Kings street gang, according to local leaders.
While most neighbors have organized to support "each other in unimaginable ways," a few Latino men have indiscriminately targeted Black Chicagoans in the neighborhood, said Little Village Ald. Michael Rodriguez (22nd).
For hours Wednesday at the free Black and Brown Food Pantry organized by Increase the Peace and other groups, both non-black Latinos and Black residents lined the corner of 47th Street and Ashland Avenue to stock up on supplies from the pantry.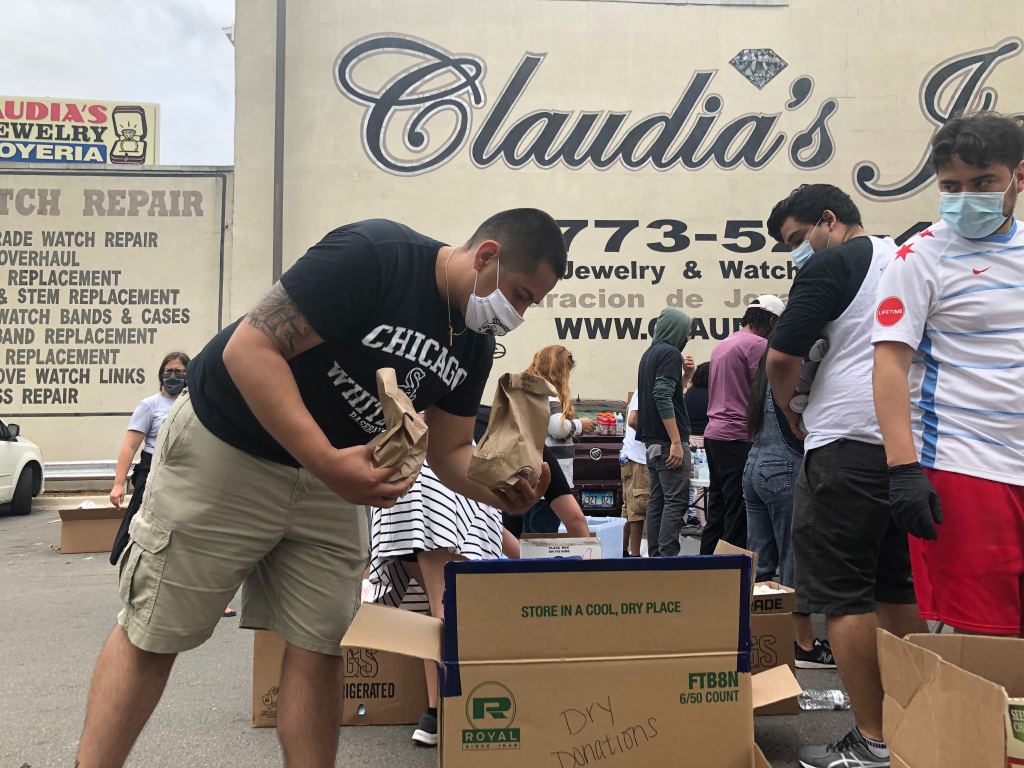 Berto Aguayo, director and co-founder of Increase the Peace, said the food pantry was a metaphorical way of breaking bread, and getting people to unite.
"We face the same struggles, we face the same issues…with unemployment, affordable housing, incarceration," Aguayo said. 
It's time to channel those "frustrations into constructive organizing, acting and being the solution," Aguayo said.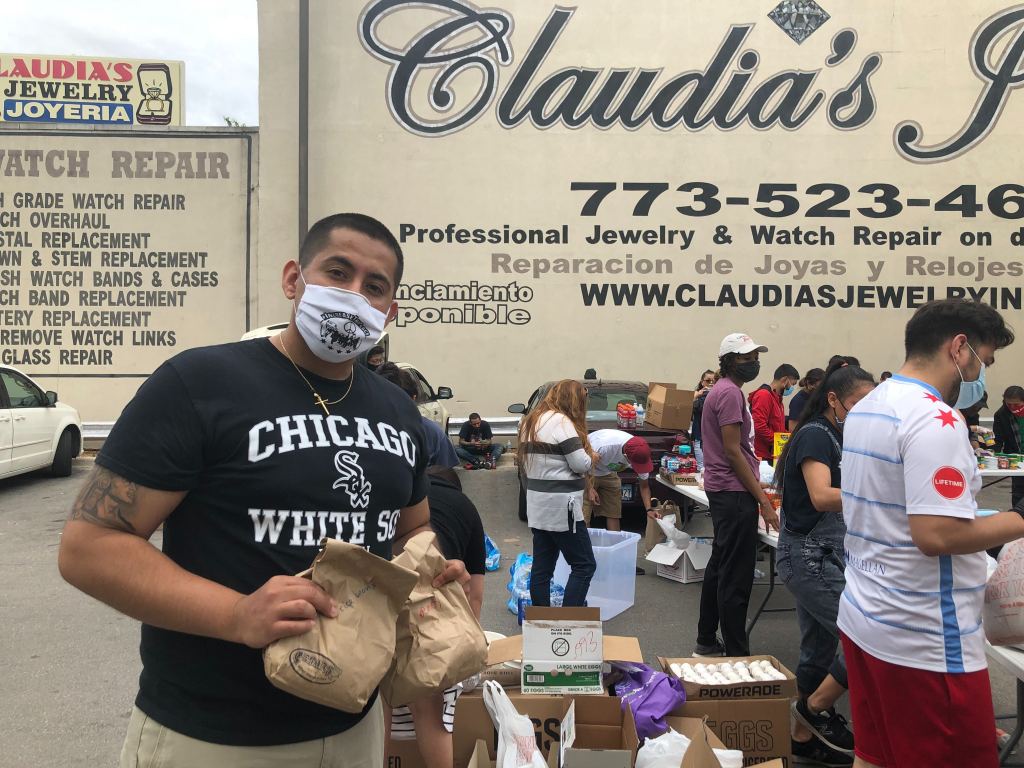 In Little Village, Pastor Matt DeMateo of New Life Centers said street outreach workers are reinforcing relationships in multicultural communities of Little Village and North Lawndale on the West Side.
"We're stronger together. Uniting our communities, standing against hate and division, standing in solidarity with our Black brothers and sisters," he wrote in a Facebook post.
On Wednesday morning, demonstrators chanted Black Lives Matter, and "No puedo respirar" or "I can't breathe" as they walked along a stretch of 26th Street.
Jai Simpson, member of Good Kid Mad City, echoed the calls for peace among Black and Brown communities.
"I'm here to stand firm in Black and Latinx solidarity," Simpson said. "This is a new age, the age where our Black and Brown are one because of our similarities."
"Both Black and Brown communities on the South and West Sides of Chicago are affected by environmental racism, racial discrimination and systematic discrimination."
"We are stronger together then we are divided. Why? Because we are family," Simpson said.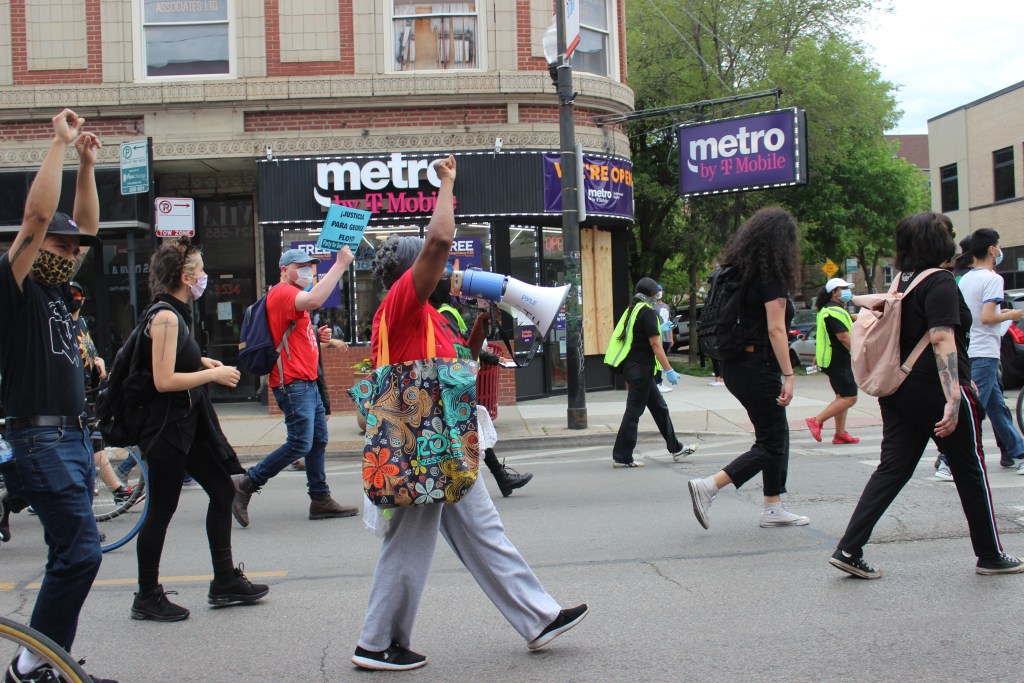 Cook County Commissioner Alma Anaya said that was a lot of hurt that exist in the Black and Brown communities. But people need to unite in their call for leaders to address systemic problems and disinvestment in Black and Brown communities.
"We need to confront this together," Anaya said. "We have the same types of pain, we have the same types of hurt and traumas and we need to make sure we aren't attacking each other. We need to recognize that unity is more powerful now more than ever."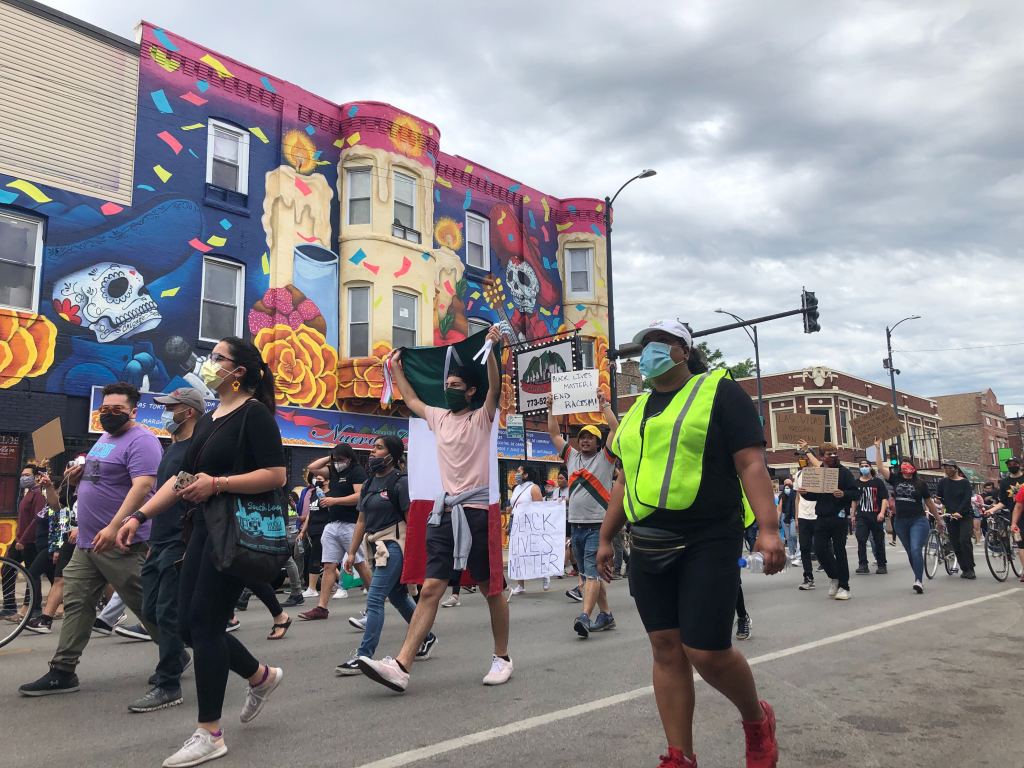 In calls for unity, Fanny Diego, a member of El Foro del Pueblo, said neighbors were standing together because "we are tired of the continued disregard for Black lives. The life of Mr. George Floyd in Minnesota, the life of Brianna Taylor in Louisville, Kentucky and the countless other lives of Black people through the US the last 400 years."
Diego demanded citizen oversight for the Civilian Office of Police Accountability.
"Our lives as Brown people are connected to the lives of Black people… We have to be united if we want to see the change in our Black and Brown communities," Diego said.
For Laura Ramirez, the peaceful protests in Little Village and Pilsen are only the beginning in creating lasting change for Black and Brown communities.
"This only the tip of the ice berg, we have a lot more work to do," Ramirez said.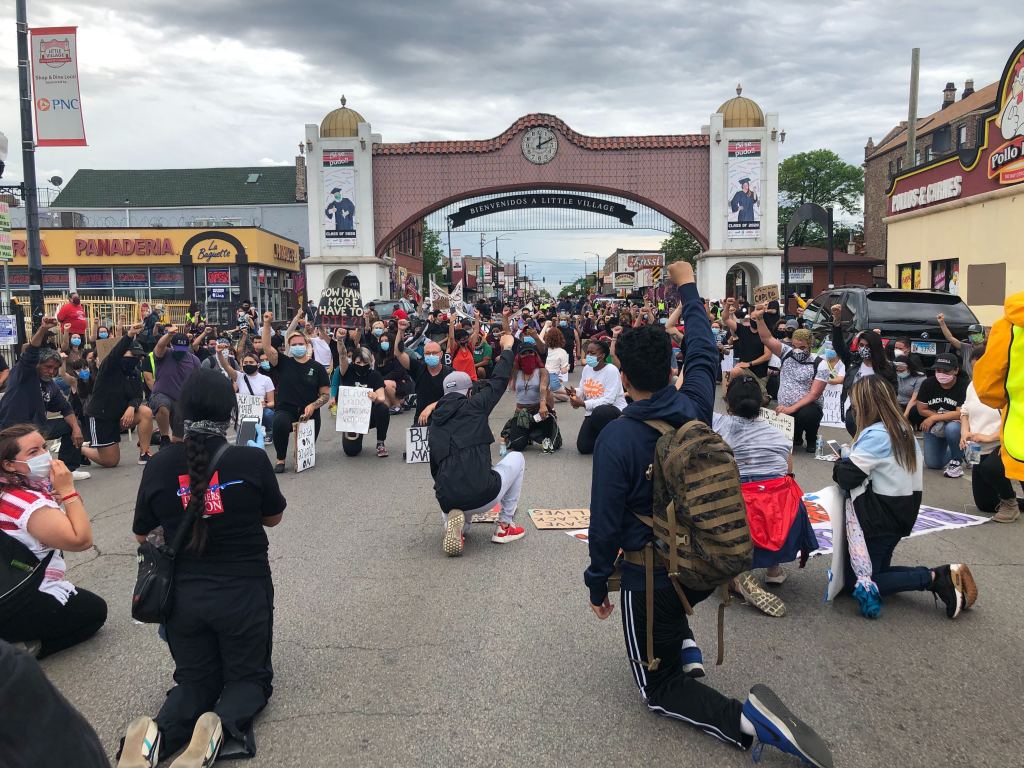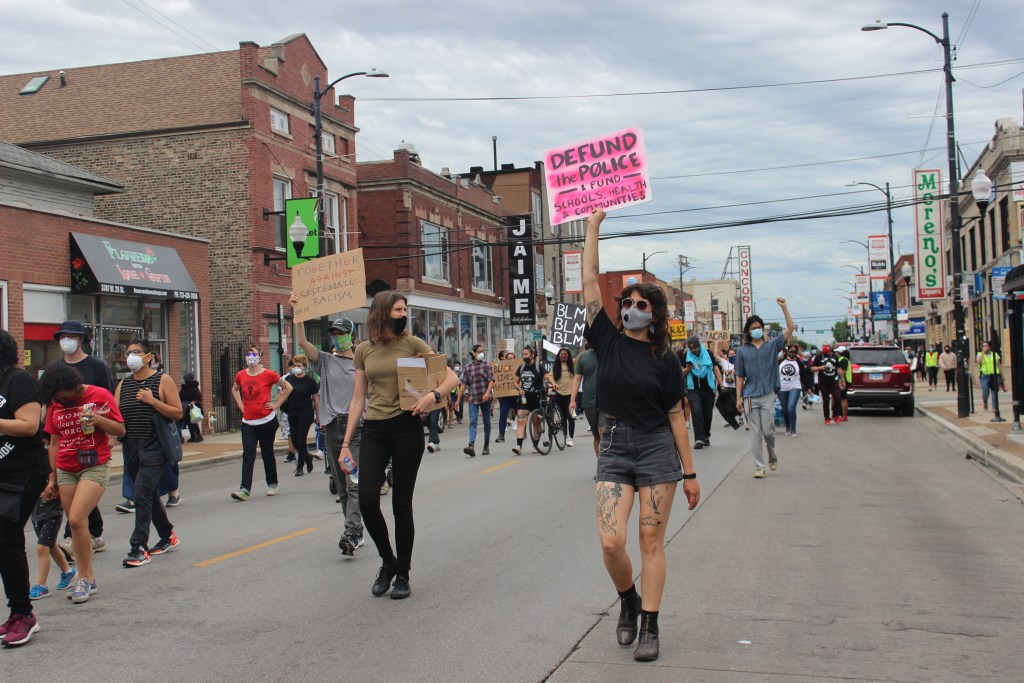 Our work is made possible thanks to donations from people like you. Support high-quality reporting by making a tax-deductible donation today.                                            
Support Us