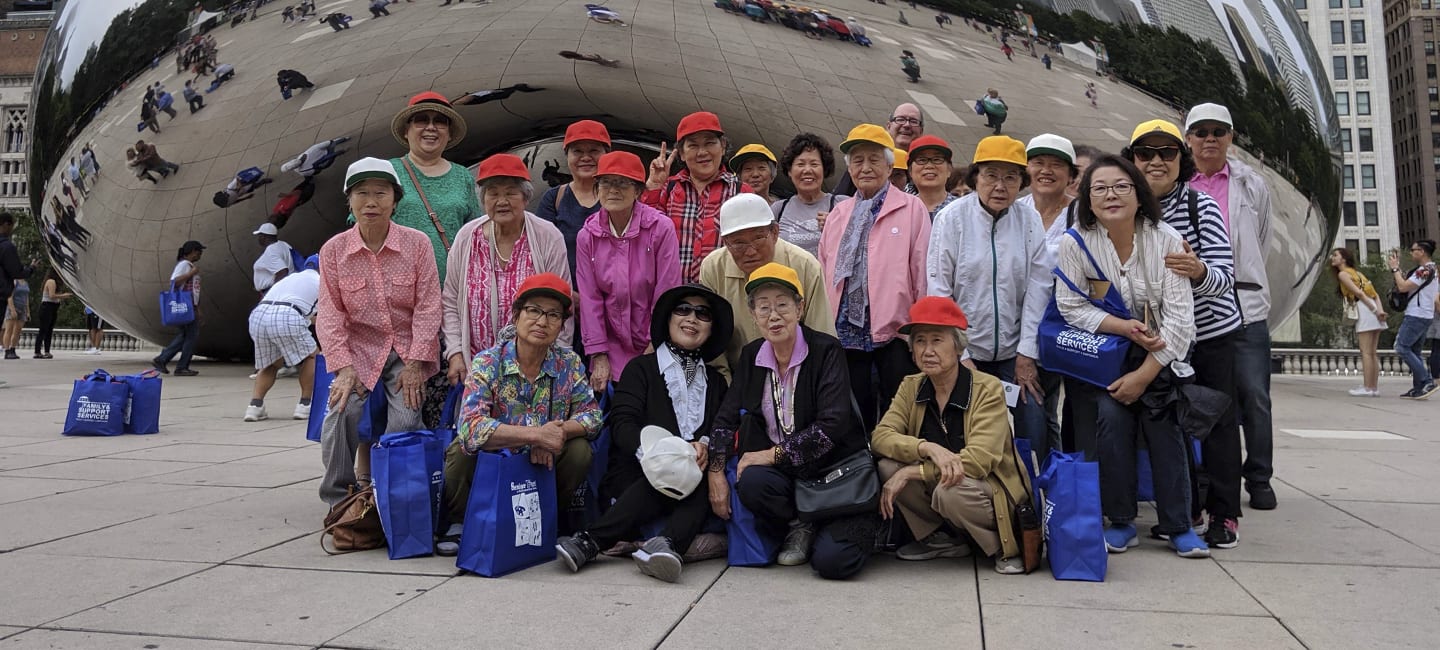 As COVID-19 continues to spread in Illinois, immigrant organizations are looking to protect their oldest, most vulnerable community members.
Above: Photo courtesy of the Hanul Family Alliance.
As the coronavirus disease continues to spread in Illinois, immigrant organizations in Chicago are looking to protect their oldest, most vulnerable community members. But language barriers, existing health problems and fears that accessing medical care will put immigrants at risk for deportation are making addressing COVID-19 a serious challenge for these organizations. 
"Our population is mixed-status [and includes undocumented people, lawful immigrants, residents and citizens], and our people are concerned about the system, especially our older population," says Sandra Ramirez, the development director at Alivio Medical Center, which serves the Hispanic community on Chicago's South Side. "They come to the clinic because they might not have the information that they need about COVID-19."
As immigrant organizations in Chicago struggle to meet the growing need for their services during the COVID-19 outbreak, here are six local organizations that could use your support right now.
Editor's Note: On March 20, Illinois Governor J.B. Pritzker issued a "stay-at-home" order for all Illinois residents starting at 5 p.m. March 21 and going through at least April 7 in order to slow the spread of the coronavirus. Under the order, people in Illinois are required to stay at home unless they are making certain essential trips, like getting food or medicine, working at an essential business or nonprofit organization or exercising outdoors. As the situation continues to evolve, contact the organizations below by phone or email to get the most up-to-date information about how you can help.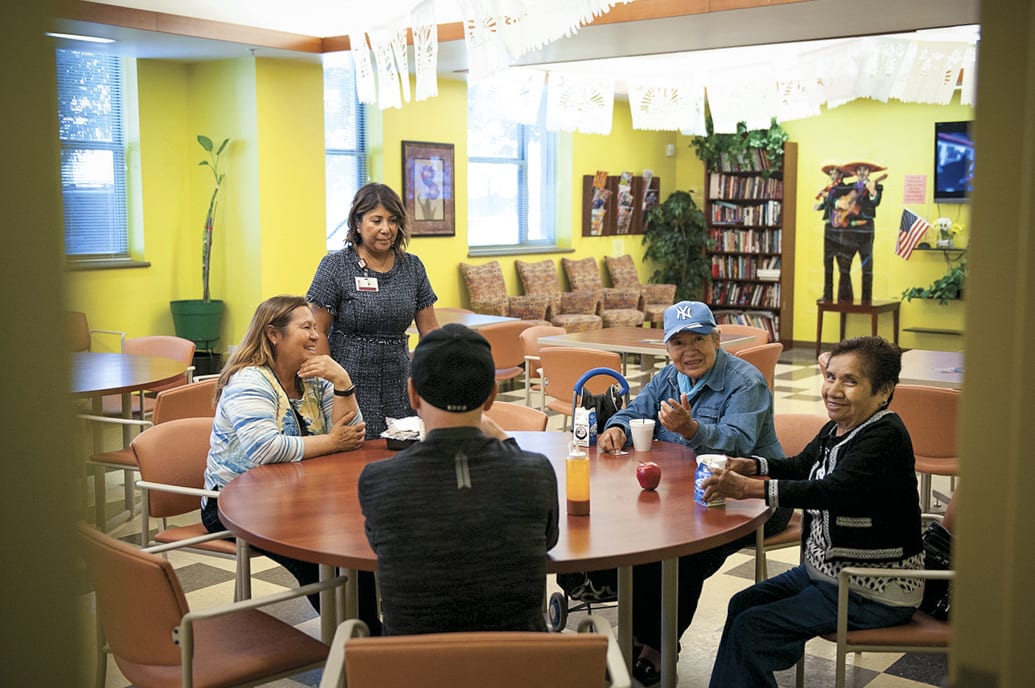 Photo courtesy of the Alivio Medical Center.
(312) 743-0493
Established in 1990, the Resurrection Project started when six parishioners joined together to give Pilsen residents access to education, affordable housing and resources. The Resurrection Project partnered with Alivio Medical Center to construct Casa Maravilla, a five-story building for low-income seniors, which opened its doors in 2011. Alivio also supports seniors by offering them health and education programs that include computer classes and fitness classes inside the senior satellite center in the building.
"We have been impacted by restriction rules to protect our seniors," said Alivio's Ramirez. "This outbreak has cost us so much."
Ramirez said that Alivio Medical Center is hoping to pay volunteers who have risked their safety to deliver goods and clean the senior facility during the outbreak.
"We are trying to shift our work to reach out to high-risk patients," said Ramirez. "Unfortunately, our Hispanic seniors have a high rate of diabetes. Right now, we are working with our pharmacies to make sure they have their prescriptions delivered."
Alivio is accepting donations to support programs at Casa Maravilla.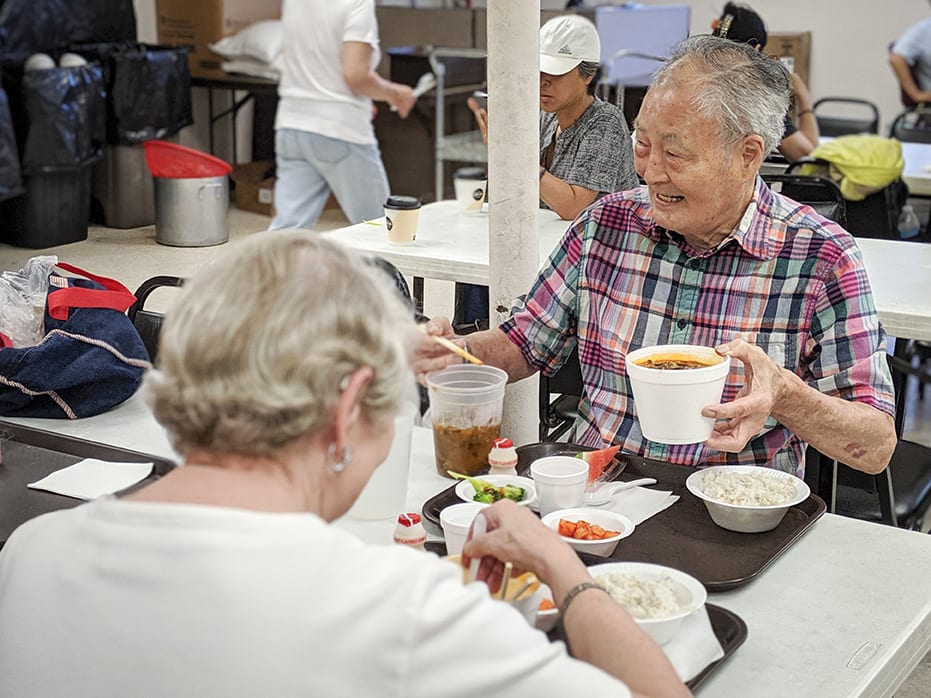 Photo courtesy of the Hanul Family Alliance.
Hanul Family Alliance in Albany Park
(773) 478-8851 
Launched in 1987, Hanul Family Alliance serves Korean elderly immigrants and low-income seniors with limited English proficiency. The community center accommodates seniors with benefit assistance programs such as Medicare, government subsidized housing and the Seniors Ride Free transit benefit. Seniors are given a communal meal service plan to combat hunger and support cultural food practices.
"The coronavirus outbreak has caused a ripple effect," said Charlene Choi, the volunteer and resource development coordinator at Hanul. Choi stressed the importance of limiting the amount of physical contact at the center.
"We had to cancel ESL classes," Choi said. "While we've been mandated not to have a dine-in congregate meal service, our lunch program is still open for take out services for our seniors."
Donations are especially needed to fund senior programs and services since Hanul's fundraising events have also been cancelled. The organization also needs volunteer drivers to deliver meals to vulnerable homebound seniors, especially at their Mt. Prospect office. If you're interested, please contact Yihyun Kim at ykim@hanulusa.org.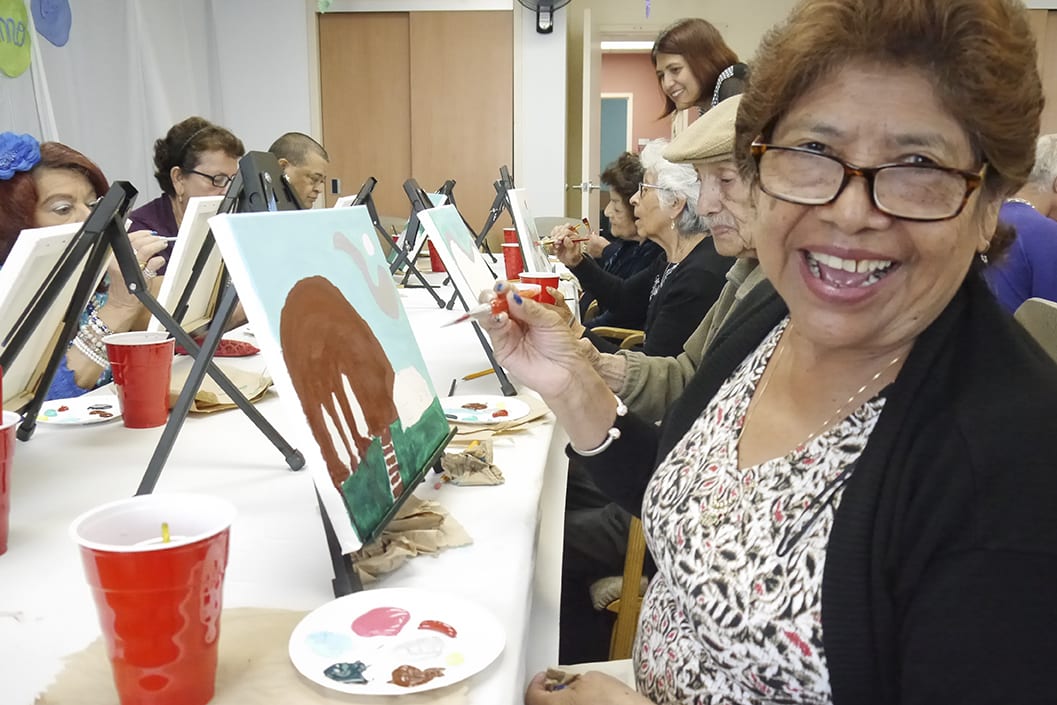 Photo courtesy of Casa Central files.
(773) 645-2300 
For 40 years, Casa Central has provided Latinos and other seniors with diverse backgrounds with individualized care and wellness programs in the Humboldt Park area. At Casa Central's adult wellness center, seniors can participate in creative therapeutic activities like music enrichment classes and dance classes. Seniors that need urgent care can join Casa Central's in-home care program.
"Currently our focus and priority is to responsibly address all of the various challenges and needs associated with this current outbreak to ensure the safety of our staff and clients," said Claudia Brodner, the communications coordinator at Casa Central.
Casa Central is requesting donations to support Casa Central's services for children, families and older adults.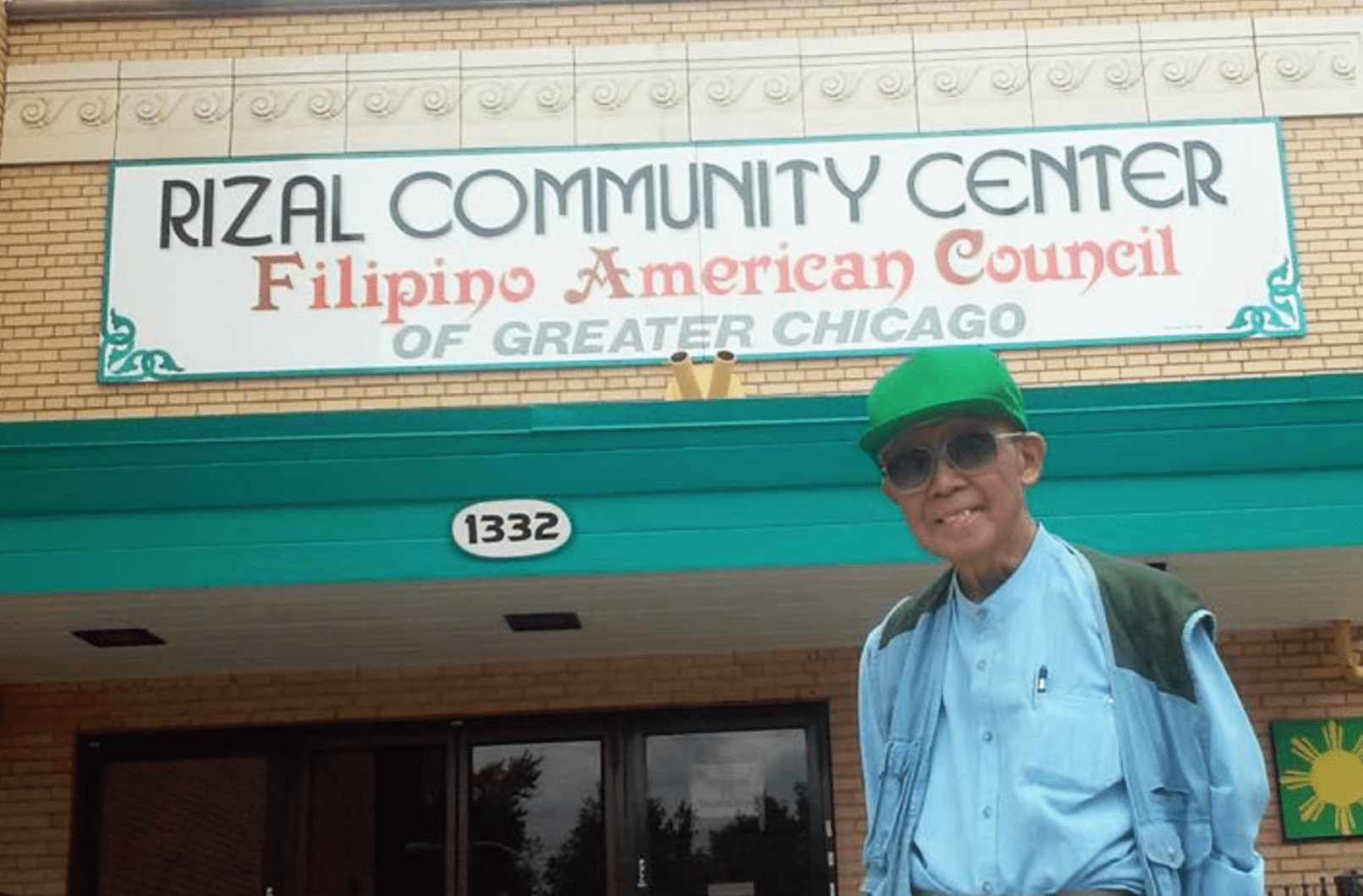 Photo courtesy of the Rizal Community Center.
Rizal Community Center in Irving Park 
312-772-1025 
The Rizal Community Center is run by the Filipino American Council of Greater Chicago and brings Filipino-Americans, Filipino immigrants and other people from diverse cultures together for civic engagement and community service. One of the ways Rizal helps poverty-stricken seniors is by providing them with meals and holding Senior Sundays, an event series that allows seniors to enjoy Filipino-inspired meals and Filipino culture. 
"We have been having elderly come asking for food, so we provide them with canned goods," said Elaine Lehman, the executive director of FACGC. "We are here for other people. That's what humanity is all about."
Rizal is requesting packaged foods and canned goods to give to seniors who need food assistance during the outbreak. If you are interested in donating food or providing monetary support, you can contact Lehman at Hello@rizalcenterchicago.org or by calling the Rizal office.
(773) 262-5589 
The Assyrian National Council is a national nonprofit organization that serves Assyrian immigrants and refugees coming from Middle Eastern countries. At the Assyrian National Council, seniors can receive care and are given the opportunity to live independently. 
"We are on the phones constantly with our seniors and families telling them not to go out," said Steve Moreno, a supervisor at the Assyrian National Council. "Being in contact right now is very difficult."
The Assyrian National Council is asking for donations and volunteers to deliver food to home caregivers.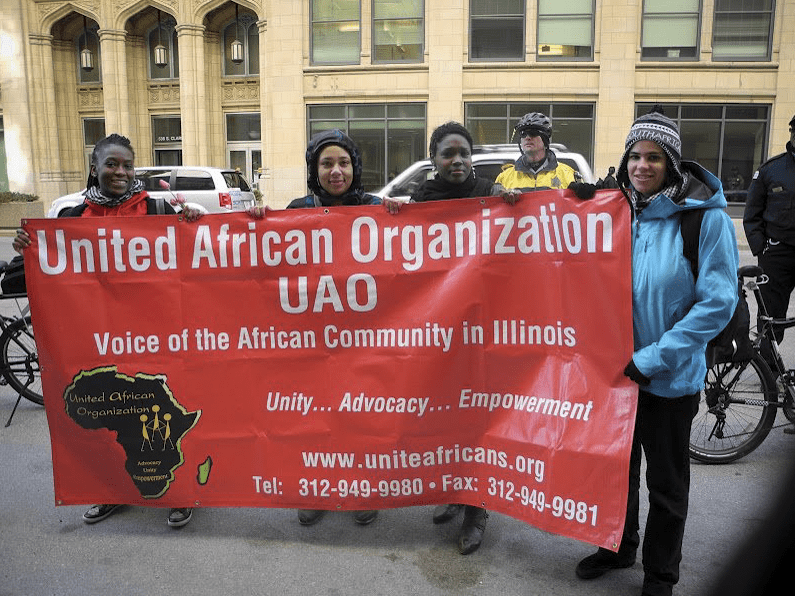 Photo courtesy of the Untied African Organization.
(312) 949-9980
The United African Organization is an advocacy coalition of African community-based organizations that promotes social justice, civic participation and empowerment of African immigrants and refugees in Illinois. They provide African language translation and interpretation services, English as a second language classes and immigration legal services. 
"People are worried about the coronavirus pandemic but are more worried about their immigration cases," UAO Executive Director Nancy Asirifi-Otchere said. "The COVID-19 outbreak creates unique challenges for small nonprofits like UAO. We understand the critical needs of the community we serve and want to be there for them while we are aware of the risks to our staff. We are challenged to be creative as we seek new ways to do our work, including offering online workshops."
UAO is open this week with one or two staff members there each day. Asirifi-Otchere says they need both food and financial donations. 
"We had someone come in who needed food and we offered them the fruit and chips we had here," said Asirifi-Otchere. "Any help would be much appreciated."
Have questions about the coronavirus and how to protect yourself from COVID-19? Read the CDC's guide to the coronavirus here.
Borderless Magazine is made possible thanks to donations from people like you. Help fund high-quality reporting by making a tax-deductible donation today.                                            
Support Us