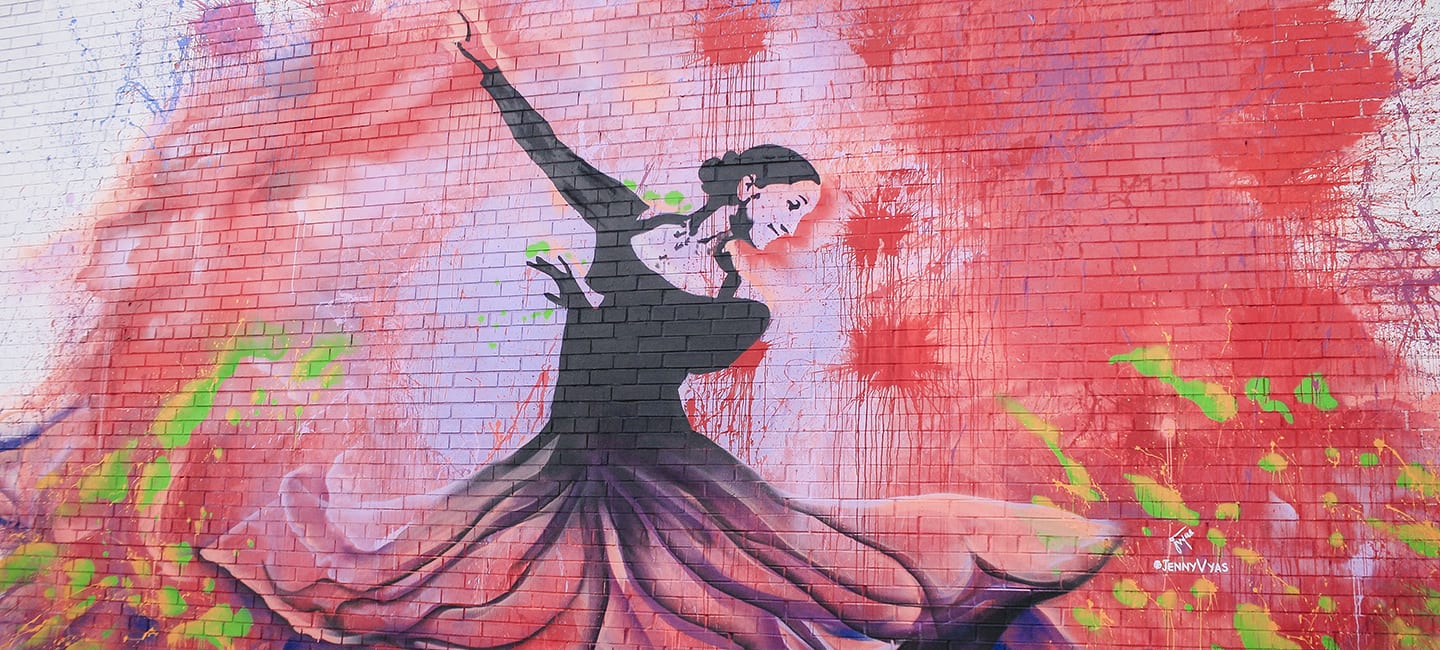 Photo by Diane Bou Khalil/Borderless Magazine
Borderless Magazine's most popular stories of 2020 include immigration stories about labor, racism, and the COVID-19 pandemic in the Midwest.
Above: "GLOW" mural by Jenny Vyas as pictured in our tenth most-read story of 2020. Diane Bou Khalil/Borderless Magazine
Borderless Magazine is amplifying the struggles and strengths of our immigrant communities in the Midwest. In 2020, we published over 90 deeply-reported stories that held the powerful accountable on issues ranging from racism and labor to the COVID-19 pandemic and the immigration detention system, which is the largest in the world.
Below, you'll find our top-ten most-read stories of the year. The list includes stories in English, Spanish, Filipino and Mandarin. The stories were written by people whose families come from the Philippines, Lebanon, Iraq, Mexico, and El Salvador.
These stories and others that we published this year helped to temporarily shut down Chicago's immigration court during the COVID pandemic, helped a homeless undocumented student pay her tuition, and raised money for the families of people in local immigrant detention centers to buy presents for their children this holiday season.
As a nonprofit news outlet, we are indebted to our supporters who make this impact possible. Please consider making a donation this week. Every donation between now and Dec. 31 will be doubled by NewsMatch. 
Thank you for your support in 2020 and we look forward to making more impactful stories with your support in 2021!
Chicago's thriving, multicultural neighborhood West Ridge has been my beloved home ever since I left Lebanon four years ago. It is now a COVID-19 hotspot. Story and photos by Diane Bou Khalil.
Coronavirus has devastated Latino communities in Illinois. But in Chicago's Wicker Park neighborhood, one family is working and hoping for a better tomorrow. Story and photos by Fernando Moreno.
After fleeing conflict, young Africans who come to Chicago find themselves navigating a city struggling with racism, inequity and violence. Here are three of their stories. Story by Michelle Kanaar and Nissa Rhee, photos by Michelle Kanaar.
Six Black and Latinx community leaders share what we need to do to address structural racism. Story by Diane Bou Khalil and Nissa Rhee.
Local Assyrian leaders are encouraging community members to participate and write in 'Assyrian' as their race in this year's census after massive undercounting in previous national surveys. Story by Ata Younan, photos by Michelle Kanaar.
How the coronavirus pandemic is straining immigration court and detention systems in the Midwest. Story by Nissa Rhee, photos by Michelle Kanaar.
The Assyrian Knights have delivered care packages to 187 Assyrian families in the Chicago area since the COVID-19 pandemic began. Story by Ata Younan, photos by Michelle Kanaar.
Workers say they were fired after complaining about the lack of coronavirus safety measures. Over 17,000 COVID-19 cases have been reported among meat and poultry workers in the United States. Story and photos by Francisco Velazquez.
Trump's executive order has kept 37,000 Diversity Immigrant Visa lottery winners from coming to the US. Story by Sruthi Darbhamulla and Lu Zhao.
"I am always wearing a mask at work. I only remove it when I'm sleeping." Story and photos by Lilia Antazo and Pat Nabong.
Double your impact today! Until Dec. 31 NewsMatch will match your new monthly donation 12x or your one-time gift, all up to $5,000.                                                                                                                           
Donate