Watan Studio is Chicagoland's only distinctively Palestinian art and design studio.
Watan Studio is Chicagoland's only distinctively Palestinian art and design studio.
Watan Studio, Arabic for home, is a distinctly Palestinian space. Jumana Al-Qawasmi launched it just five months ago and that's intentional. The design storefront along 159th Street in Orland Park is crafted to inspire other Palestinians to examine folklore and heritage through a distinctly Palestinian lens. With unique art, design and cultural events, she hopes to be the starting point for the local Palestinian diaspora to explore identity and exile amid Chicago's Arab heartland in the southwest suburbs.
Jumana can't help but smile when she picks up a small olive tree with a delicately braided trunk that she pulls close to her heart — it's her newest addition to Watan Studio. "I feel like it's a little part of Palestine. I have to remind myself that I can't plant it outside because it wouldn't survive our winters," she says with a warm laugh.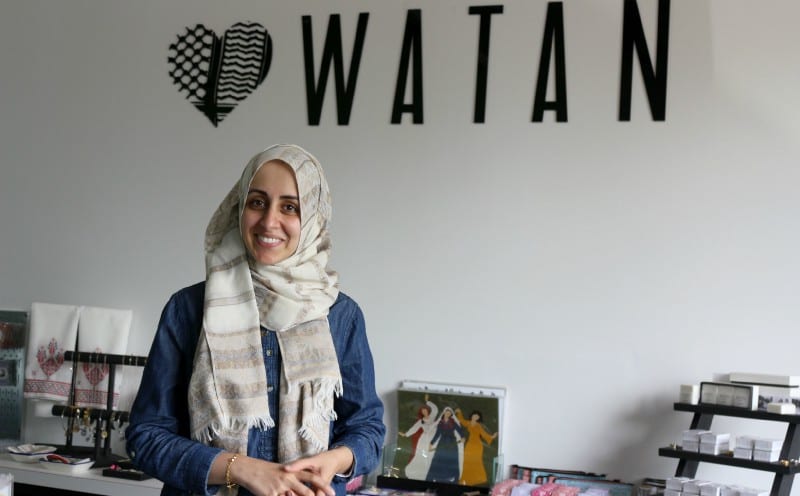 It's a Thursday — a low key work day for this daughter of Palestinian immigrants who sits at one of three long white tables surrounded by art, clothing, and illustrations that she's created ranging from a gold plated name necklace with kanafeh in Arabic script (a homage to the addictive cheesy, syrup laden dessert believed to have originated in the Palestinian city of Nablus) to phone cases in vibrant al-Khalil pottery patterns, or minimalistic black and white keffiyeh print.
She says the kanafeh necklace always gets customers to laugh but it's just one small part of a larger exploration of identity and culture examining what it means to be Palestinian. "It's very easy to go into Palestinian history and do a lot of design based on food. Our food history is very prolific and very easy, but I want to be able to design other things as well," says Jumana.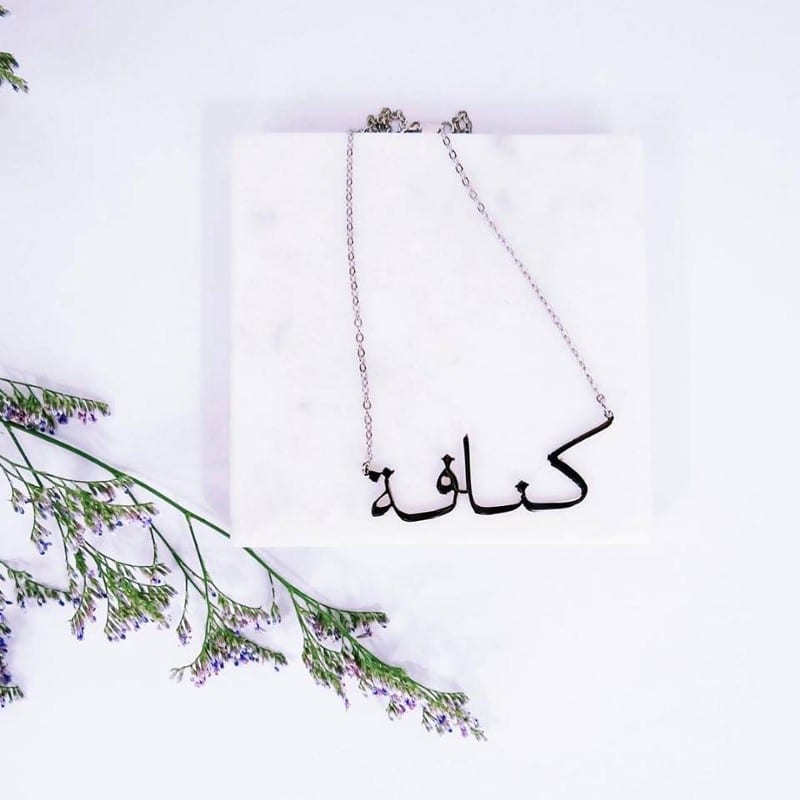 And she has. Watan is full of thoughtful design that's taken form in stickers, patches, pins, and t-shirts. It's all design that Jumana has largely taught herself out of a childhood passion to draw and a deep love for her family's homeland. A drawing of a blossoming garden overlaid with the words, "Imagine Palestine After Liberation" hangs on a bright white wall while portraits ranging from historical figures like Hind Al-Husseini, a Palestinian notable who established the orphanage Dar Al-Tifl, or Emile Habibi, a famed Palestinian writer, are found on tables full of notebooks, postcards and ceramic mugs with humorous images of a Palestinian grandmother holding her slipper ready to discipline.
The space is more than just fashion and art. Products like bottled olive oil from Palestine's most recent harvest and jewel-colored ceramic Arabic coffee pots and matching tiny cups made in the West Bank that Jumana lugged back from a family trip to Jordan directly support Palestinian livelihoods. It's all part of a deep responsibility Jumana feels to support life and growth back home, as well as a larger solidarity with other marginalized people. In July, she plans to host a Sahra for Syria, an evening of live classical Arabic music with Jafra, a Middle Eastern music collective, under the stars behind her shop to benefit displaced Syrians supported by the local Chicago nonprofit Karam Foundation.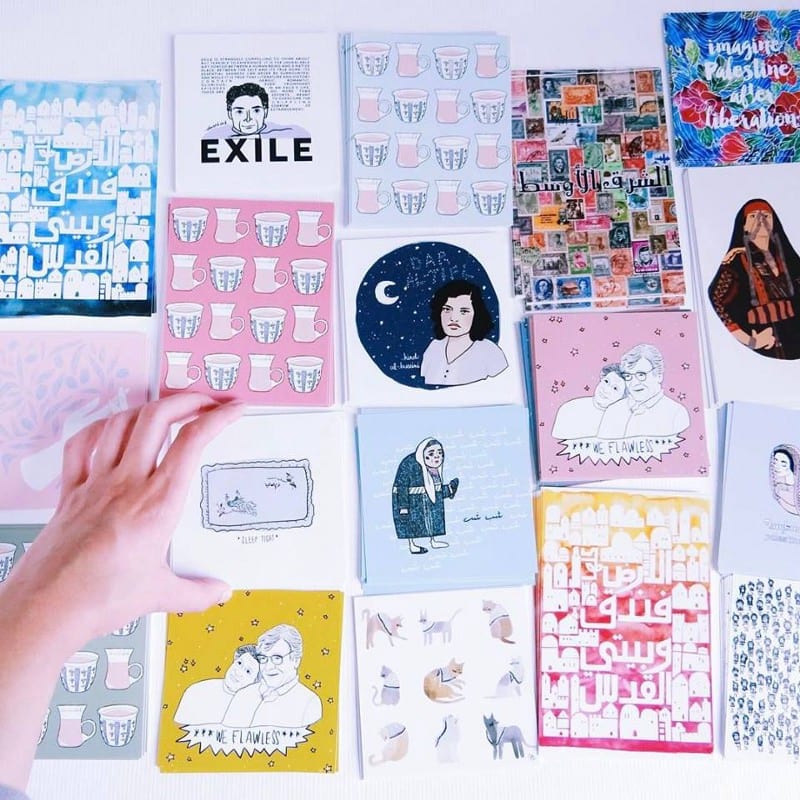 Though sustainable, the studio isn't focused on profit alone. "Always with Watan it's been that we aren't like every other brand that wants to just make money. We have a certain responsibility to do work for Palestine whether it is educating or doing work for the movement — whatever it is," she explains.
Since she opened the creative arts studio in December 2016, Jumana has curated purposeful and quirky programming to match her playful and dreamy design. Past events include tatreez (Palestinian embroidery) classes, a discussion with Palestinian graphic artist Mohammad Sabaaneh, and Arabic painting classes. Watan is also home to a community library full of books like "Olives, Lemons and Za'atar" from Rawia Bishara of Brooklyn's famed Tanoreen Palestinian restaurant, or Kamal Boullata's book on Palestinian Art that can be enjoyed by anyone passing through the studio.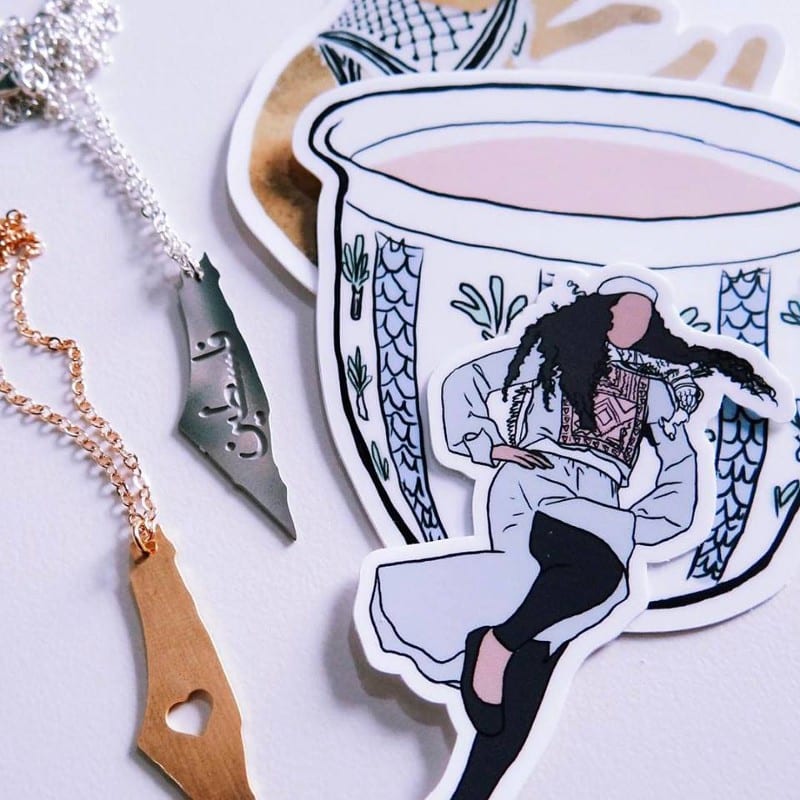 Most importantly, Jumana says the space is intentionally devoid of learning one's history through an outsider's gaze in an era where it's too common for youth to organize in spaces that are not Palestine-centered. "When we lack agency or space, we lose the conception that whatever solution eventually happens in Palestine we have a real stake in that. Connecting Palestinians here in the diaspora with our culture and history is one way to reclaim our stake in Palestine," explains Jumana from behind MacBook Pro with an illustrated sticker of a joyful woman dancing dabke, a folk dance native to the Levant countries.
Though the space is catered to the Palestinian community, she says it's open to everyone genuinely interested in being a part of Palestine — in Chicago, or a future homeland.
Watan Studio, 7710 W. 159th Street, Orland Park, Illinois 60462